---
Komarna belongs to the Slivno Municipality, a region inhabited since the time prior to Illyrian settlement. The first known inhabitants of the region are the Plearaei, a Thracian tribe, who were later pushed away by the war-hungry Ardiaei, an Illyrian tribe.

The Illyrians were later pushed away by the Romans who established the city of Narona, a strong trade, military and judicial center, in the nearby area (Vid by Metkovic). Narona was the second largest Roman city on the eastern Adriatic coast, after Salona (Solin). About ten years ago, a set of sixteen sculptures presenting Roman emperors and their families was found during the archeological excavations. This set represents one of the largest collections of this kind in the world.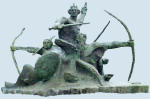 The Croats came to this area in the 6th and 7th centuries. Already in the 9th century they established the Neretva Princedom headed by Prince Domagoj, ruler of the region stretching from the Cetina to the Neretva Rivers. With his small but swift fleet, Prince Domagoj often attacked the Venetian boats. The Venetians named him the "worst Croatian prince" (dux pessimus Croatorum). A monument called The Archers of Domagoj (Domagojevi strijelci) stands in Vid by Metkovic in honor of this famous prince.
In the medieval period, the Slivno region belonged to various rulers. With the invasion of the Turks in the 15th and 16th centuries, it became a region bordering with the Ottoman Empire. Therefore, the Venetian administration granted the entire region to the Nonković family who distinguished themselves in the fight against the Turks. A fortress the purpose of which was to defend the area from the Turks was built above Klek. It was named Smrdelj-grad or Smrdan-grad. Its remains are found even today. The necropolis of tombstones found in Slivno also dates from the Middle Ages.