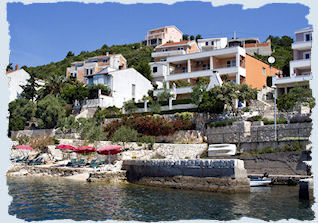 The apartments of the Deak family are situated in Komarna, a small community ideal for all those looking for peace and quiet, as well as a clean sea.
Komarna is a small tourist community situated in the Slivno Municipality, in the Dubrovnik-Neretva County, away from industrial centers. Its main tourist attractions are its clean sea, a beautiful view of the Pelješac Peninsula, and the lack of large tourist complexes, which allows our guests to enjoy the sunset and the quietness of warm Mediterranean nights on a terrace by the sea. An ideal place to forget the everyday business race and urban bustle.
Komarna is situated on the northern side of the Neretva Channel. The Channel is closed off by the longest Croatian peninsula, the Peljesac Peninsula, on the southern side. Such location makes it appear as a small sea, which allows the guests to feel more in contact with nature. A north-western wind locally known as maestral blows in the afternoons. It is ideal for windsurfers who can surf all the way to the Neretva River Delta or to the Peljesac Peninsula.